A professional-quality standard zoom that offers outstanding image quality and a fast f/2.8 aperture throughout its zoom range. This L-series lens has a reputation among professional photographers as being the go-to zoom lens, thanks to it's sharp optics and ability to be used in almost any environment. The perfect companion to any full-frame EOS camera.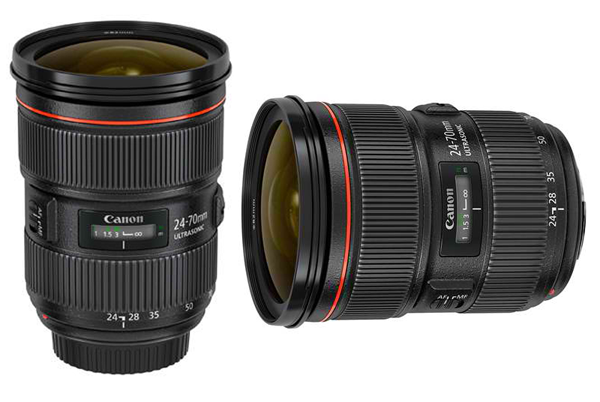 Hand-held low light shooting
The EF 24-70mm f/2.8L II USM's constant f/2.8 aperture throughout the zoom range makes the lens a great low light performer that's able to make the most of any available ambient light. The fixed aperture also gives you optimum control over depth-of-field. The new 9-bladed diaphragm produces a circular aperture, which helps to achieve beautifully blurred backgrounds with attractive bokeh. This means your subject can stand out against the background, with no distractions.
Next generation optical design
Featuring the latest advances in optical design, the EF 24-70mm f/2.8L II USM brings together three aspherical elements to provide the highest possible image quality in a lens of this focal length. Significant reduction in chromatic aberration and reduced colour blur means less time in post production with an edge-to-edge sharpness usually only found in prime lenses.
What is an Aspherical Element?
An aspherical element is a free-curved internal component within your lens that corrects the distortion caused by the curvature of the spherical lens elements.
These components are only found in professional quality lenses.
Aspherical aberration produced with a standard lens can be avoided by using a higher quality lens with additional aspherical elements.
The EF 24-70 f/2.8L II USM has three aspherical elements to separately counteract each of the individual internal aberrations, so your images are exceptionally sharp.
Precision autofocus, with control
A ring-type ultrasonic autofocus motor means that you can focus quickly, near-silently and with precision. It also provides override manual focus allowing you to stay in control. This helps you to adjust the focus accurately to ensure it is exactly where you want it to be for the most creative control.
L-series build quality
Only the best technology and production techniques go into the building of each L-series lens. Part of the prestigious 'Luxury' line up, these lenses showcase the very best that Canon have to offer.
The EF 24-70mm f/2.8L II USM is engineered from the highest quality materials, which makes it robust enough for daily professional use. Weather sealing protects against dust and moisture, while fluorine-coated front and rear elements are easy to clean.
Accessories
Lens Cap E-82II
Lens hood EW-88C
Lens Pouch Lp1219
Serialumber: 915175B00592AA210225006293