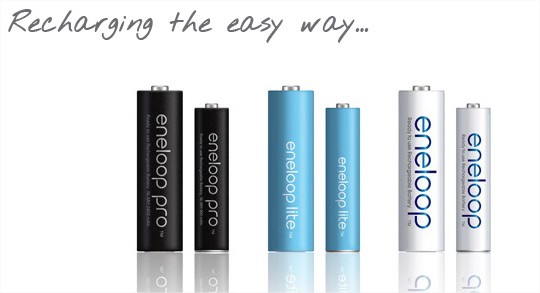 Eneloop oppladbare NI-MH batterier
Batteri typer:
Panasonic Eneloop Pro BK-3HCCE 1.2 v 2450 mAh (HR6) x 8 stk
(Høy kapasitet: 2450 mha. Batteriet kan lades opp 500 ganger. Beholder 85% av batterikapasiteten i opptil 1 år.)
Sanyo Eneloop XX HR-3UWXA 1.2 V 2400 mAh (HR6) x 8 stk
Sanyo Eneloop HR-3UTGB 1.2 V 1900 mAh (HR6) x 30 stk
Panasonic Eneloop BK-3MCCE 1.2 V 1900 mAh (HR6) x 48 stk
Les mer om Eneloop batterier på Wikipedia.
Stikkord:
NIMH = Nikkel Metall Hybride (1,2 V)
Dette er ett miljøvennlig oppladbart batteri, utviklet for å ta over for NiCd, i dag kan denne kjemien gi tilsvarende de samme egenskapene som NiCd, med større kapasitet som bonus. Denne kjemien er ikke så hardfør som NiCd og må lades med ladere beregnet for denne typen batterier.
Eneloop NI-MH batterier er laget for å beholde opp til 70% av batterikapasiteten i opptil 5 år, i motsetning til andre NI-MH batterier som blir helt utladet i løpet av kort tid.
Sanyo NC-MQNO4E lader
Batteri ladetid:
The above charging times are estimated hours to complete charging. The LED Indicator remains lit even after these charging times have elapsed. A protection timer switches the LED off after approx 16hrs of continuous charging in an electrical outlet.
Slik lader du:
Plasser 2 eller 4 batterier med AA eller AAA størrelse i laderen, slik at + (positiv) og – (negativ) endene til batteriene kobles til de samme + og – posisjonene i laderen. Batterier av typen AA eller AAA kan ikke lades ved to spor på en side av laderen samtidig. Et batteri kan heller ikke lades hvis det settes som kun et batteri.
Plugg laderen til stikkkontakten med en spenning på AC 230V. LED indikatoren lys må lyse og ladingen av batteriene begynner. Ladningssyklustiden avhenger av batteritypen. Se tabell.
Koble laderen fra stikkontakten når ladingen er avsluttet.
Ta batteriene ut av laderen. Merk at batteriene kan bli varme etter ladingen.
Sanyo NC-MQR06W hurtiglader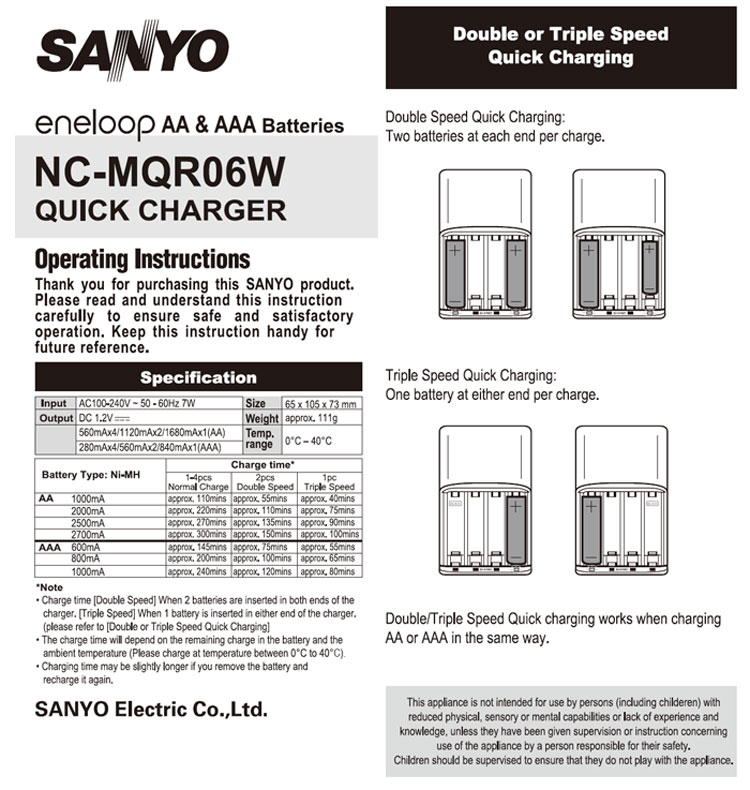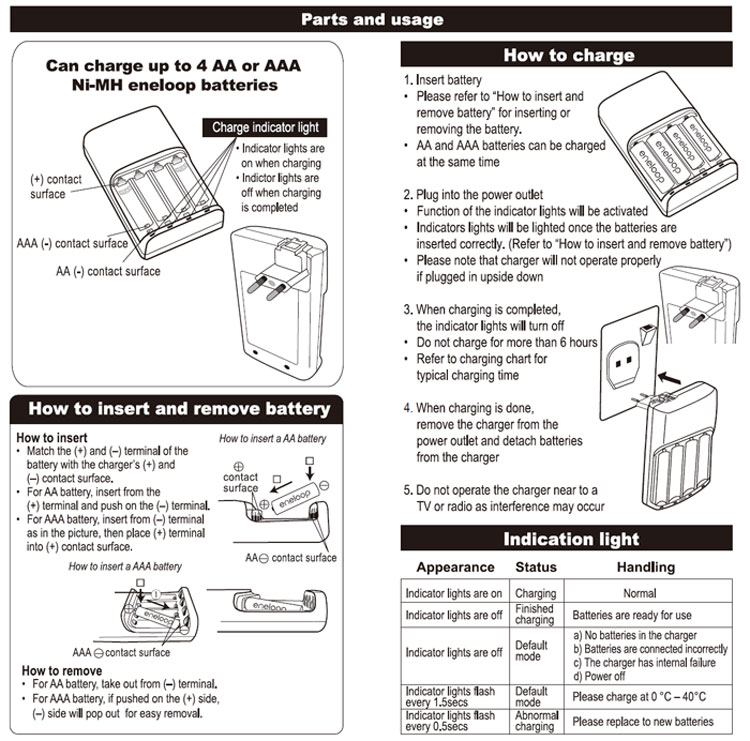 Panasonic BQ-CC16 hurtiglader
BRUKERVEILEDNING
1) Legg merke til polariteten ved å tilpasse (+) og (-) på batteriene med (+) og (-) på laderen.
Sett inn AA-batterier fra (+)-terminalen og trykk på (–)-terminalen (Fig. 2).
Sett inn AAA-batterier fra (-)-terminalen og plasser (+)-terminalen i (+)-kontakten
2) Putt laderen inn i en standard 100–240 V AC stikkontakt.
3) Ladelampen lyser jevnt etter at den har blinket raskt flere ganger, og indikerer at lading pågår.
Hvis indikatorlyset ikke slår seg på:
a) Kontroller at batteriene er på plass og har god kontakt med polene på hver side.
b) Sjekk at du har plugget laderen til en AC-stikkontakt som virker.
4) Når batteriene er fullt oppladet, slukkes ladelampen. Trekk så laderen ut av AC-stikkontakten og fjern batteriene.
Når batteriene er fulladede, vil laderen slå seg av automatisk.
Tabellen under gir en viss pekepinn på hvor lang tid det tar å lade opp de forskjellige type batteriene. Dette vil variere avhengig av temperatur og batterienes status.
Lenke til brukermanual for BQ-CC16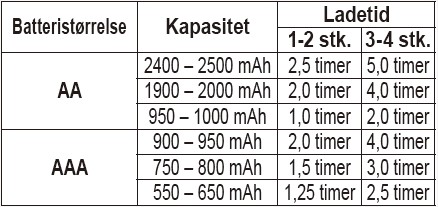 Japcell BC-4001 batterilader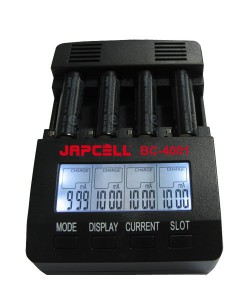 Batterilader med LCD display for AA/AAA batterier.
Info:
Universal battery charger for all type of Ni-MH and Nicad batteries from 200 mAh up to 3000 mAh (milliampere-hours).
The charger has a Charge, Discharge, Test/Quicktest and Refresh function.
The LCD Display shows voltage, current charge, mAh and time individually
Lenke til brukermanual for Japcell 4001
Mer informasjon: Japcell.eu
Powerex MH-C801D
The Powerex MH-C801D 8-Cell 1-Hour Charger for AA / AAA NiMH / NiCD Batteries charges up to 8 AA or AAA nickel-metal hydride (NiMH) or nickel-cadmium (NiCD) batteries in approximately 1 hr. Charge your batteries anywhere around the world via the included 100-240V, 50/60Hz universal AC adapter with a removable, interchangeable power cord. This power supply features a rugged DIN connector to ensure reliable contact.
The charger has 8 independent charging circuits capable of charging 1-8 batteries in any combination. A large LCD screen shows the charging status of each battery. You have a choice of rapid and soft charge modes. Rapid charge enables 8 batteries to be fully charged to their maximum capacities in 1 hr. Soft charge takes about 2 hr but provides greater battery life, as well as compatibility with older, lower-capacity batteries.
An integrated deep conditioning system charges, deep-discharges and then recharges batteries automatically, in order to offer maximum rejuvenation. The charger's 8th generation MH-NM7008 Powerex Precision Microprocessor ensures batteries are charged to their maximum capacities without being over- or undercharged. It affords maximum battery longevity, delivering just the right amount of charge every time.
Oppbevaringsbokser for oppladbare AA AAA batterier
Sett med 10 oppbevaringsbokser for 4 x AA AAA batterier som holder dine batterier trygge og tørre.
Kjøpt rimelig fra Hong Kong via http://www.ebay.com.