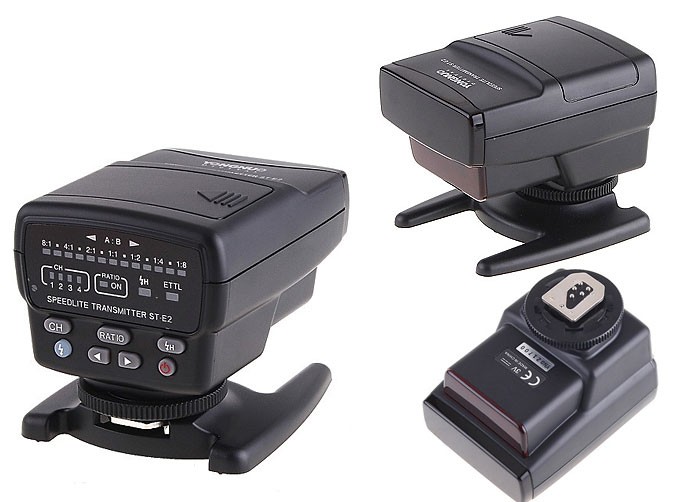 ST-E2 Speedlite Transmitter for Canon 580EX 430EX 550EX
Yongnuo Speedlite E-TTL transmitter ST-E2 for Canon IR (Infrared).
This Speedlite transmitter can be compared to the Original Canon ST-E2. It features some improvements.
Function:
Ultra-AF: Assist focus function, the max. focus distance to 25 meters.
Access to Camera menu: You can set control of the speedlite through access to the camera menu.
Supports Exposure compensation: You can adjust the power output of the speedlite by using the flash and exposure compensation.
Supports Exposure Bracketing ( FEB ): Access to the camera menu to set the exposure bracketing function.
Supports Group C Flash: You can set Group C flash via your camera's menu. (not all cameras provide this menu)
Modeling Flash: When the button of depth of field on the camera is pressed, it can control the speedlite to send out the modeling flash.
Rotatable: You can control the angle scope of the slave unit by rotating the camera body (swivels left and right 135 degrees).
Overheating Protection: If the controller is used too frequently, it's overheating protection function will be triggered.
Power saving function: If the controller is idle for 2 minutes, becomes dormant. Shutdown when idle for 15 minutes.
Specification:
4 Channels
Transmission Range up to 25m
Transmission Angle (40 degree to left and right and 30 degree up and down.)
Controllable slave groups (A+B+C, A:B, A:BC (Via camera menu ))
Flash Ratio control (8:1, 1:1, 1: 8)
Modeling flash control provided.
High-Speed sync provided.
Power Source (2 x AA size batteries (Alkaline or Ni-MH)) ((No more 2CR5 batteries such as Canon ST-E2 uses)
Flash numbers: About 1500.
Additional function
Rotatable, Camera menu controllable, FEC, FEB
Manuals:
Yongnuo: Yongnuo ST-E2 Speedlite Transmitter
Canon: Canon ST-E2 Speedlite Transmitter