This is a Manfrotto Combi Boom Stand. Extend the second riser of this medium duty black aluminum light stand to its maximum, press a lever, and you have a stand with a two section boom arm. When used as a boom stand, its maximum load is 2 kg – strong enough for a small light fixture with a small softbox or umbrella. A sandbag counterweight is supplied (empty) and recommended whenever boom is extended.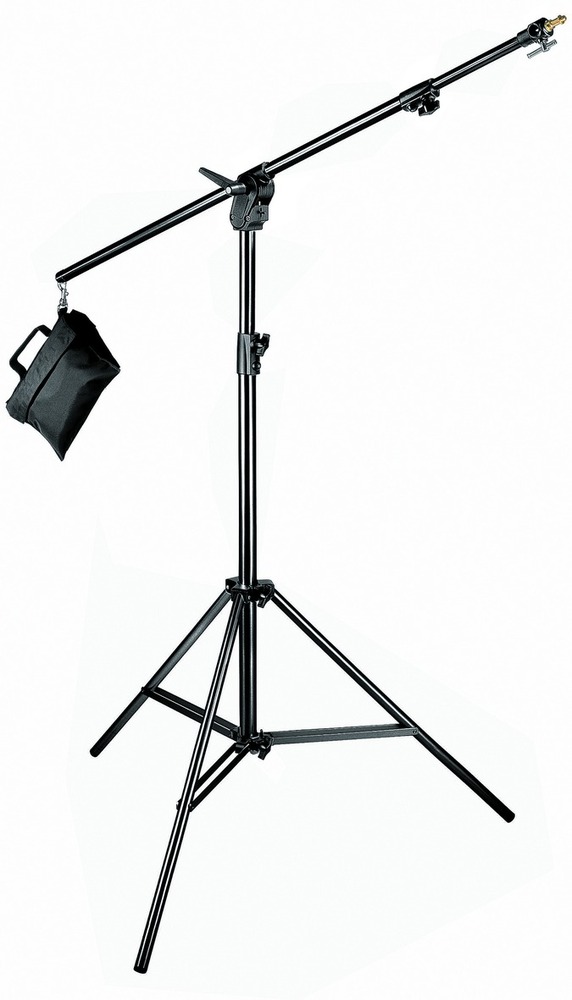 Specs:
Minimum Working Height: 1.4 m
Maximum Working Height: 3.9 m
Collapsed Height: 1.1 m
Weight: 2.7 kg (without sandbag)
Load Capacity: 9 kg (Boom arm: 2 kg)
Connection:
Manfrotto 013 Double-ended Spigot

This brass Manfrotto 013 Double-ended Spigot is compatible with a variety of stands and grip gear including the 2940, 2941, 3077, 308, and 3095. It has a 5/8″ (16 mm) diameter with 1/4″-20 and 3/8″ threaded ends.