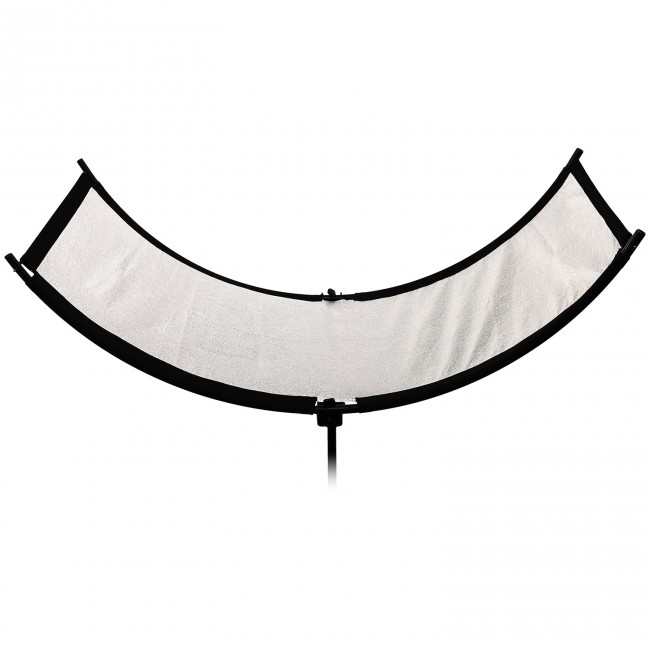 Westcott Eyelighter Reflective Panel
Innovation at Its Finest
Featuring a durable aluminum frame and highly-reflective silver surface, the Eyelighter produces a pristine reflection and a beautiful catchlight for professional portraiture. Now, portrait photographers can obtain clamshell lighting with a natural looking reflection. The Eyelighter is the Triflector, reinvented.
An Inspired Design
This arc-shaped reflector was inspired by the unique curvature of the human eye. Specifically designed for beauty and portrait photography, The Eyelighter reflects an arched light toward your subject, leaving a catchlight that follows the natural curve of the iris. Unlike triflectors, this catchlight is seamless, without unflattering gaps. This detailed reflection unique to the Eyelighter and is obtainable without handheld reflectors or multiple light setups.
Quality Construction
The Eyelighter frame is constructed with strong aluminum allowing for lightweight durability. In true Westcott fashion, only the finest reflective fabric is incorporated in this reflector. Tension rods are utilized to pull this material taut, maximizing the light casted.
Surprisingly Compact
The Eyelighter collapses down to only 36" and quickly stores in the included carry case for travel to on-location shoots and storage.
Unique curved reflector
Reflects stunning beauty lighting
Create beautiful curved catchlights
Westcott-exclusive design
Ultra-reflective silver surface
Durable high-end construction
Perfect for fashion, beauty, and headshot photography
Simple setup and teardown
Impressive portability
In the Box
Westcott Eyelighter Reflective Panel
Reflective Fabric
4 x Curved Rods
2 x Tension Knobs
Tilting Support Spine
2 x Straight Tension Rods
Carry Case