Westcott 7′ Parabolic Umbrella (Silver)
Model: Westcott 4633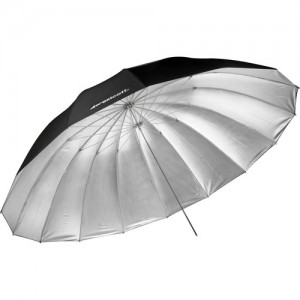 Measures 7.25′ (2.2m) in diameter
Constructed using 16 durable fiberglass ribs
Reflective Silver Interior
Long Throw Capability
Black Backing
Double wall shaft is engineered with double the thickness of most umbrellas
Carry case with shoulder strap is lightweight and constructed of heavy-duty nylon
If you had to choose a single light shaping tool, you might do well to pick the silver Westcott 7′ Parabolic Umbrella. First of all it's a really big, broad light source that wraps light around your subject yielding clean highlights and rich open shadows. But due to the special shape of the umbrella there's a unique mix of soft enveloping light with the kind of crisp detail you only get from reflectors. Put another way, if you combined a beauty dish with a softbox, you'd have a parabolic umbrella.
This umbrella has a unique design structurally as well. The shaft is double walled for strength, but it tapers to 7mm to fit Elinchrom and other European flash heads. Insert the shaft into the tilter bracket below the Elinchrom head. Older models or other brands may require separate purchase of an inexpensive umbrella mount. Instead of bendable metal, the 16 inner ribs are made of durable fiberglass and the fixed black backing ensures that all of the light output is on your subject instead of through the umbrella. The silver interior is slightly cooler in color temperature than a white umbrella and tends to focus the light into a soft but narrower field. You can also vary the light-to-umbrella distance along the shaft for a harder or softer light. This silver version is ideal for throwing the light over a long distance. Two of them, for instance could light an entire auditorium or a large graduating class. With the Westcott 7′ Parabolic Umbrella less is definitely more.
Parabolic White Front Diffusion Cover
Pair it with the silver parabolic.
Paired with the 7′ Silver Parabolic Umbrella, this front diffusion panel accessory will give the effect of a large Octabank producing a high output light source. Ideal when using strobe style lights.
Pair it with the parabolic diffusion umbrella.
Paired with the 7′ Diffusion Parabolic Umbrella, this mix will produce a very soft and wide angle spread of light.
Pair it with a black/white parabolic.
Pairing this unit with our Soft White/Black Parabolic umbrella with provide a bounced light source that is very evenly lit across the surface.
Easy attachment.
This custom-front diffusion panels attach in seconds through use of elastic. The shaft easily inserts into the center hole securing with a draw-string closure.
Create the effect of an Octabank
Perfectly paired with studio strobes
Diffuse light by one full stop
Quick set up and tear down.