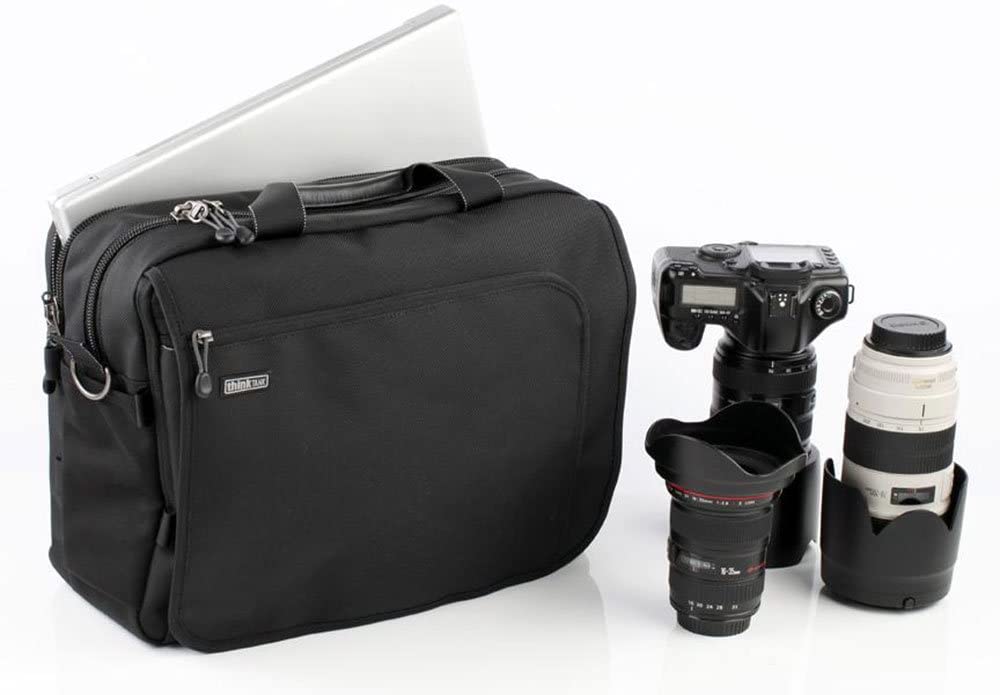 The Think Tank Urban Disguise 60 V2.0 resembles a traditional piece of luggage or briefcase as opposed to a traditional camera bag, yet, it will hold enough gear to shoot your gig.
Inside, the bag can be configured to handle a wide variety of equipment. For example, it carries one pro size or regular size DSLR with 24-70mm f/2.8 attached, plus 2-5 additional lenses, and a 17″ widescreen laptop or two regular size DSLRs with standard and wide angle zoom lenses attached. Or, two pro size DSLRs (bodies ONLY) in the padded front pocket, plus 3-6 lenses in the main compartment. A handy retractable divider allows you to separate the two camera bodies and prevents them from bumping together. If you remove the divider entirely, you'll have one large pocket for files, documents or other collateral material. The flexibility of the bag should be obvious. Irrespective of the configuration, your 70-200mm f/2.8 with reversed hood will fit while attached to a DSLR.
The front unzips quickly for rapid access to your gear. The gusseted pocket prevents items from slipping out. Underneath the front flap is a padded pocket for an additional camera body but which can be flattened to minimize the overall profile of the bag. Both sides of the bag contains stretchable pockets for holding your cell phone or water bottles. As a bonus, the bag includes a Pee Wee Pixel Pocket Rocket that holds 4 CF cards and 3 SD cards. It also has an ID window, red trim for easy spotting and is tethered for security.
For carrying convenience, the included shoulder strap is contoured, comfortable and non-slip in design. Fabric loops on both sides and bottom are there to attach optional straps such as the Urban Disguise Attachment Straps and Shoulder Harness that can be used to convert this bag into a backpack. These straps can also be used to strap a tripod to the bottom of the bag. On top, there are stylish and strong leather grab handles with a clasp to hold them together. There's also a rear panel that can serve as a trolley sleeve on a luggage cart. However, when not needed, the panel can be used as an additional storage pocket. The back of the bag also features a handy business card holder that eliminates the need to open the entire bag to retrieve your comp card.
For ultimate protection, not only is the bag made from ballistic nylon but Think Tank supplies a rain cover that is tethered to the bag to prevent it from blowing way in strong winds. This unique bag is backed by Think Tank's lifetime warranty against manufacturer's defects.
Expansion Zipper increases depth to fit a pro size DSLR with standard zoom lens attached in the main compartment
Fits a standard 3 lens DSLR kit and up to a 17″ laptop in a separate padded compartment
A front organizer pocket that is easily accessible on the front flap. The stylized zipper opens wide for quick access and the gusseted pocket prevents loose items from falling out
Genuine leather handles are built in for comfort and long term durability. The handle clasp can be used to tie the two handles together, for convenience, while carrying the bag or kept undone, while actively shooting, for rapid access to photo gear
The expandable front pocket has retractable divider to split the pocket for carrying two pro size DSLR bodies. Retracting the divider creates one large pocket for carrying a notebook or paperwork. When the notebook or camera bodies are removed, the pocket flattens to reduce bulkiness
Discrete fabric loops on both sides and bottom of the bag are specifically placed for connecting the Urban Disguise Attachment Straps kit (sold separately). The Urban Disguise Attachment Straps help expand bag capacity by connecting Modular, Skin, or Multimedia components to either side of the bag and strapping a tripod to the bottom of the bag
An adjustable, non-slip shoulder strap is included. The shoulder strap is contoured and fully padded to make carrying heavy photo gear over an extended period of time easier to bear
YKK zippers are lockable with any travel-size padlock for an extra measure of security
Stretchable side pockets are convenient for carrying small water bottles or a cell phone. They even stretch far enough to keep most hot shoe mounted flash units easily accessible
To travel easier, this shoulder bag incorporates a zippered panel for attaching the bag to the extended handle of most rolling luggage. The zipper at the bottom of the panel can be closed when not attached to a rolling bag, turning the panel into a spare pocket
The clear business card pocket on the back of the bag not only functions for identification, but also holds a small stack of extra cards. Comes in handy for those potential clients met spontaneously on the street
Similar to most Think Tank products, the bag includes a seam-sealed rain cover to protect the bag from dust, rain, snow, and other potentially harmful elements. The term "seam-sealed" refers to the waterproof tape applied to the inside seams of the rain cover fabric. Think Tank rain covers also feature a built-in tether to keep the rain cover from accidentally flying away with a gust of wind
Attach the Shoulder Harness V2.0 accessory (sold separately) to carry the bag as a backpack. Rather than constantly maneuvering with a swinging shoulder bag, wearing an Urban Disguise as a backpack keeps hands free for handling airline or subway tickets, a cell phone, or other luggage
Compatibility
Carries one pro size or regular size DSLR with a 24-70mm f/2.8 attached, plus 2-5 additional lenses, and a 17″ widescreen laptop
Two regular size DSLRs with standard and wide angle zoom lenses attached
Two pro size DSLRs (bodies ONLY) in padded front pocket, plus 3-6 lenses in main compartment