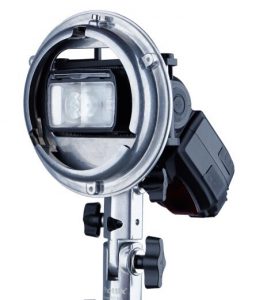 The Phottix Cerberus Multi Mount is your all-in-one mounting solution for hot shoe flashes. Use your hot shoe flashes with Bowens-compatible accessories, Elinchrom-compatible accessories, and the Phottix Transfolder Softbox range.
The Cerberus system comes with:
Phottix Griffin with PhottixTransfolder-Compatible Mount
Phottix Varos Pro BG
Cerberus Elinchrom-Compatible Mount
Cerberus Bowens-Compatible Mount
Like the mythical Cerberus, the Phottix Cerberus Multi Mount has three heads. The standard round mount works with the range of Phottix Transfolder Softboxes. Add the Bowen-compatible mount – and traditional S-Mount compatible accessories can be used with your hot shoe flash. Swap that out for the Elinchrom-compatible mount and use Elinchrom's vast array of accessories with your hot shoe flash.
The durable and patented Phottix Griffin Universal Flash Mount holds many popular hot shoe flash models secure in a synthetic-lined spring-loaded clamp. The system was designed to be both durable and easy to use. A Phottix Varos Pro BG Umbrella Adapter is included to mount the Phottix Cerberus Multi Mount to a light stand or boom.
What's in the box:
Phottix Griffin with PhottixTransfolder-Compatible Mount and Phottix Varos Pro BG
Cerberus Elinchrom-Compatible Mount
Cerberus Bowens-Compatible Mount
Allen Key
Carrying Bag