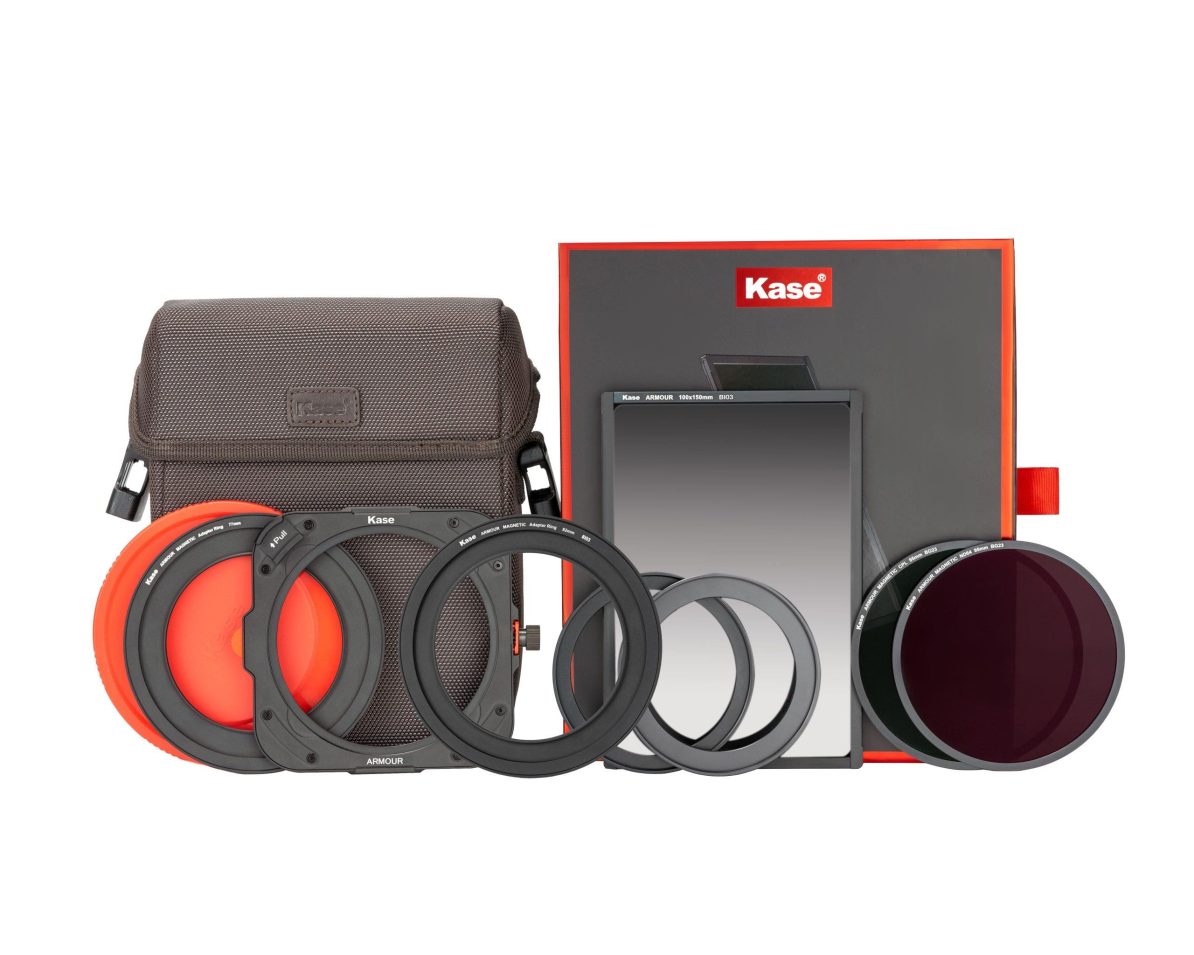 The Kase Armour Entry Level Set 1 is the perfect start to your Kase Armour experience. Included are the Armour filter holder, the filter bag for up to 6 filters and adapters.
The Kase Armour Entry Level Filter Set 1 is perfect for professional or amateur photographers who want to use filters with all the benefits of Kase Wolverine filters, the speed of magnets and the added protection of Kase Armour.
With the selection of filters in the set, you are ideally equipped for most scenarios. Uses the soft graduated filter to balance the light and perfectly capture the details in the landscapes and city scenes. Use the ND filter to control your shutter speed and create great effects such as: smooth water, silky clouds and light trails. The magnetic polarization filter reduces glare and increases color saturation. All with the added protection and strength of the Armour frame and the one made of high quality aluminum.
Accelerates the use of filters in the field by protecting metal frames around your existing filters and a round neutral density filter housed in the Armour holder.
Features:
Magnetic 95mm polarizing filter and round ND filter
Reduced assembly time compared to the classic rectangular filter system
Additional protection for the rectangular filters through special aluminum frames with magnetic function
Less fingerprints on the edges of the filters
Tempered optical Pro HD glass
Highest color fidelity
Metallic nano-coatings
Scratch resistant
Shockproof
Water and dust / dirt repellent
Easy to clean
Circular Magnetic ND reduces light loss
The Armour filter system also fits perfectly with the rectangular filters from Kase but also with those of other brands.
Whats included?
1x 100mm Armour aluminum Filter Holder
1x 95mm Armour Magnetic Polarizing filter
1x 95mm Armour Magnetic ND64 (6 stop) filter
1x 100x150mm Soft Graduated filter 0.9 3 Stops incl. magnetic frame
2x magnetic base adapter rings: 77-95mm & 82-95mm
2x screw-in step up adapter rings: 67-77mm & 72-82mm
1x lens cap made of plastic
1x soft bag filter bag
Additional filters I've bought:
1x 95mm Armour Magnetic ND8 (3 stop) filter
1x 95mm Armour Magnetic ND1000 (10 stop) filter
To use the filter holder with other lens filter sizes smaller than 82mm, please use suitable screw-in Step Up adapter rings. For example, to use the Armour system with a 58mm filter thread, you only need an additional 58-82mm screw-in Step Up Adapter Ring.