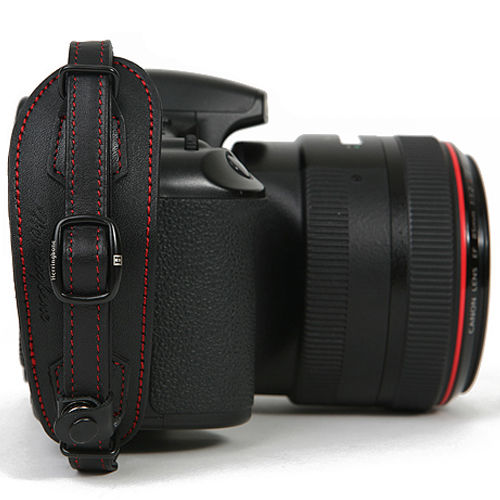 Model: Herringbone Hand-Grip Heritage Black with red stitching Type1 (without plate) H10018.
The Herringbone Heritage Hand Strap is a luxurious hand strap that is hand-made using premium 100% genuine leather. Both the hand grip and the webbing are made of genuine leather. Strap buckles and snaps are also made of high quality leather and metal components. Moreover, every package comes with a unique Multi-Plate (available only with Type 1). This plate does not only serve as a way for you to attach your handgrip strap, it also serves as a quick release tripod plate for both the Arca-mount tripod head and a Manfrotto RC2 head. (The Multi-Plate is not sold separately).
Features :
Strong and durable
Genuine Leather Webbing
Includes a quick-release Mutli-Plate (Arca and Manfrotto RC2 compatible) with single strap lug (included with Type 1 only)
Premium 100% Genuine Leather
Comes in a pouch with an elegant gift box
There are also two types: Type 1 and Type 2. The difference between the two types is one includes the Multi-Plate and the other doesn't. The strap itself are the same. Type 1 is geared towards cameras with no battery pack and/or no slot to attach a strap. Type 2 is for those who use a battery grip and/or has a slot to attach a strap. I know on Canon battery grips, you're able to attach a hand strap but with Nikon's you can't. It's all personal preference. If you get the one with the plate, you don't have to use it but it's always good to have for resell value. Of course, getting Type 1 will cost a couple bucks more than the Type 2 and the multi-plate can not be purchased separately.
How to install the Herringbone Leather Hand Strap on Your DSLR Camera
You can find more information about the Herringbone Heritage Leather hand grip by following the hyperlink.