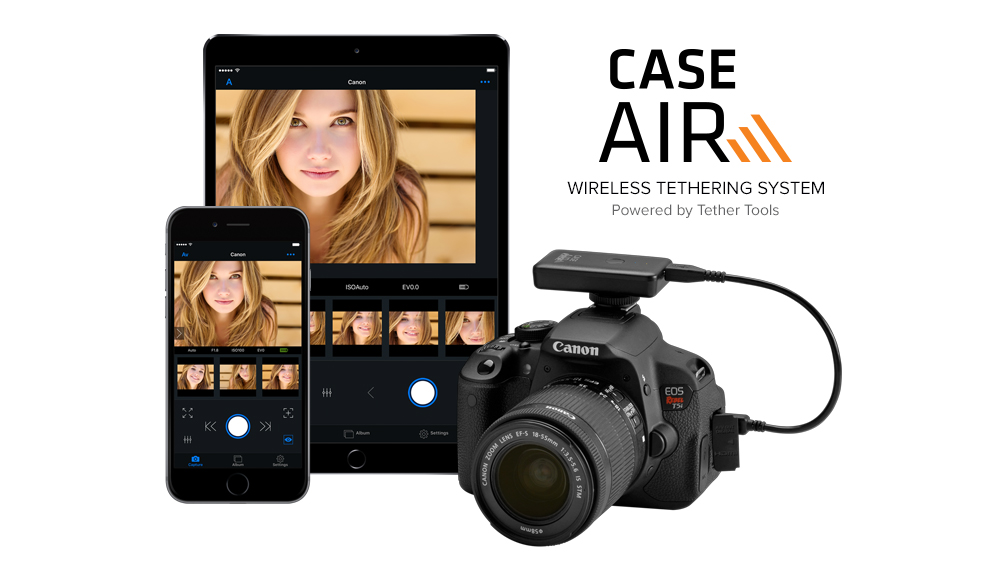 Wirelessly Tether and Control Your Camera from Any Portable Device.
The Case Air connects and transfers images instantly from your camera to a phone, tablet or computer. Control advanced camera settings including focus points, exposure settings, bracketing, time-lapse, and more. View your images on a larger screen to check critical focus and composition, or use Live View or movie mode for real-time capture to share and collaborate as you create.
Connection Setup
To use the Case Air, simply mount to your camera's hot shoe or secure to your camera using an included lanyard. The Case Air plugs in to the camera's USB port and creates a Wi-Fi hot spot that allows for a wireless connection to your tablet, smartphone, Mac or PC. Within the app, nearly every camera function can be manipulated, including focus and exposure settings. Once connected you can take advantage of live view, check focus peaking, RGB histogram and grid, control video, and even do specialized tasks like bracketing for HDR, time-lapse shooting, and focus-stacking.
Key Features
Wireless range of 45 meter
Internet connection not required
Compose images with Live View
Check and adjust critical focus
Bracketing/HDR bulb mode, focus stacking
Advanced time-lapse shooting
Monitor video capture
Share images and video online with clients or post to social networks
Mount to camera via hot shoe or attach with Quick Release Lanyard (included)
6-8 hour rechargable battery life
Charge during use with the Case Air Power Split Cable (sold separately)
Case Remote App/Software
The Case Remote App, is a wireless camera remote controller app that works in tandem with the Case Air Wireless Tethering System. The app features an intuitive design and state-of-the-art performance that makes wireless tethering and remote camera control simple and easy. It is available for download on the Apple Store and on Google Play.
Homepage: Tether Tools