A simple way to shoot close-up photos is to use an extension tube. Macro lenses are cool, they allow you to get in really close to your subject and can open up a whole new
photographic world for you. If you can buy a dedicated macro lens that's great but they're pretty expensive.
So if you're not someone who does much close-up photography then a macro lens might be too much for you this is where
extension tubes can come in really handy. All lenses have a minimum focusing distance. An extension tube is just a hollow tube with no pieces of glass that lets you pull your lens further away from the camera body. You can buy extension tubes in many different lengths. Tthe further away the lens the closer you can focus on your subject which means you get more
magnification. There are generally two types of extension tubes. The cheapest kind are really just a simple tube with no mechanical connections at all. Tthese are fun to play around with but unless you're using an old lens with a manual aperture ring you're stuck shooting at a wide open aperture. Tthis is because the camera can't talk to the lens and make it close down. I've even heard of do-it-yourselfers who have made their own extension tubes out of a toiletpaper roll and it actually works.
However if you'd like to have full control over your settings then get something that's made for your camera like the Canon EF 25 or EF 12 which has electrical contacts built into it it's a bit more expensive but allows you to change your aperture and when shooting that close you generally want to be at a small aperture depth of field is severely limited and even at f-22.
You'll find that when you're focused so close you'll still have a really shallow focus area so why would you prefer a dedicated macro lens if extension tubes are lighter and less expensive.
The main reason is that you do loose some image quality since you're really using your lens in a way that it wasn't designed but it's a great way to get started with close-up photography.
It can open up a creative world like you've never seen before.
Canon Extension Tube EF 25 II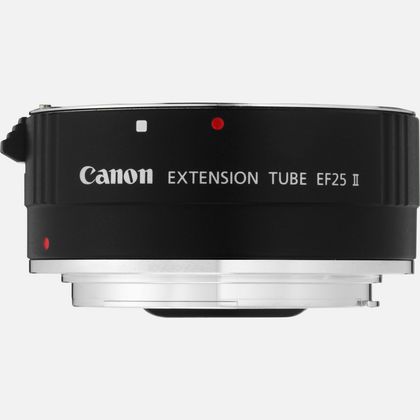 When used with selected lenses, this 25mm extension tube allows much closer focusing.
Benefits
This 25mm extension tube fits between camera body and the lens, providing even closer focusing than the Extension Tube EF 12 II
Compact and portable- a great accessory to take when shooting wildlife
Maintains electronic contact between lens and body
Contains no optical elements
Canon Extension Tube EF 12 II
Benefits
This 12mm extension tube fits between camera body and the lens, providing a brighter image that the Extension Tube EF 25 II
Compact and portable- a great accessory to take when shooting wildlife
Maintains electronic contact between lens and body
Contains no optical elements