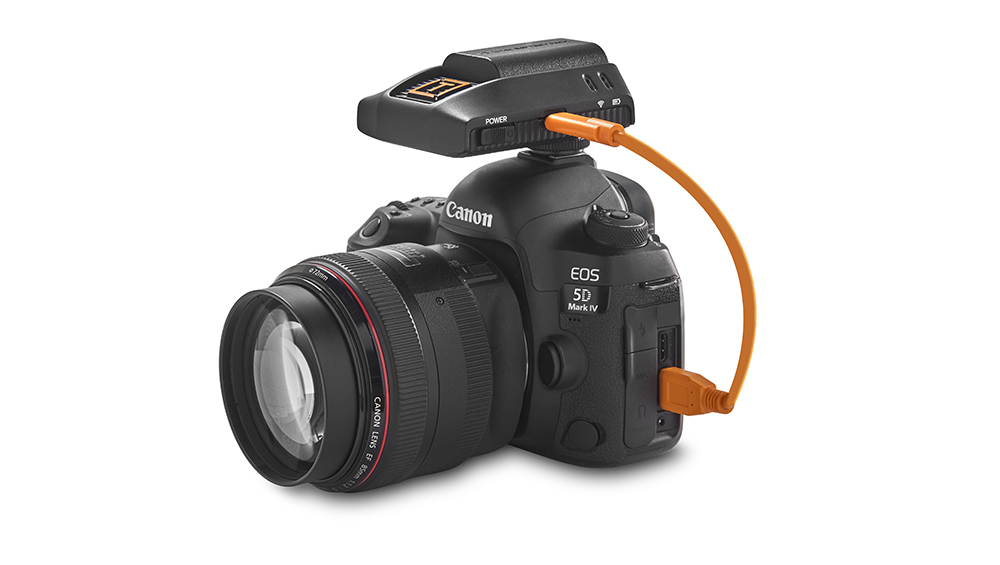 Designed To Mirror Your Existing Tethered Workflow.
The Air Direct wirelessly transfers RAW and JPG images to your existing tethering software as if you were shooting with a cable. Connect supported FujiFilm, Sony, Canon, Nikon, Panasonic, and other DSLR, Mirrorless and Medium Format cameras direct to a computer running compatible tethering software. Air Direct's USB-C protocol and 802.11AC dual band Wi-Fi delivers reliable image transfer and enables all camera control features native to the tethering software – such as live view, loupe, barcoding, bracketing, focus-stacking and countless other features native to tethering software.
Great for applications like High Volume, Events, Product and Food photography, particularly when you're shooting JPEG or Compressed/Lossless/Lossy RAW files.
The Air Direct Utility software supports Windows 10 and 11 and Mac High Sierra through Catalina operating systems but is not currently compatible with devices using Monterey nor the latest Apple M1 chips.
Your Camera. Your Workflow. Wireless with Air Direct.
Air Direct brings you a tethered workflow shooting experience that frees you to be mobile as you shoot. Air Direct's utility software makes a virtual PTP connection so you can wirelessly control your camera and transfer files to your software. Compatible with Capture One, Smart Shooter, Lightroom, DarkRoom & many other tethering software programs.
Air Direct utilizes its own power source and will not drain the camera's battery. For longer shoots, use large external USB batteries or AC wall power via the supplied DC cable. Air Direct offers the flexibility to swap power sources without ever shutting down, so you can power and shoot simultaneously. The Air Direct's Bridge Mode feature expands a photographers wireless tethering workflow by allowing users to not only bring images directly into their tethering software, but also immediately send images via a FTP site, share them with clients, post to social media, stream music and more.
Mac and PC Compatibility
The Air Direct Utility (ADU) creates a wireless PTP communication between camera and tethering software on MacOS or Windows. Supported cameras: www.TetherTools.com/Air-Direct
Compatible with Canon, FujiFilm, Nikon, Sony, Olympus, Panasonic LUMIX, Phase One, Hasselblad, Leica models with USB tether. Not designed for non-supported camera models.
For cameras with extremely large files, shooting tethered with a cable may be a better option.
Tethering software of your choice such as Capture One, Smart Shooter, Lightroom, DarkRoom, & many other tethering software programs. (Required for Mac and PC)

A tethering software that supports your camera model is required to use Air Direct. There are many options available. To find one compatible with your camera, use Tether Tools Software Compatibility Finder.
Mobile, iOS, and Android Compatibility with Canon and Nikon Cameras:
Air Direct is compatible with iOS and Android devices for Canon and Nikon cameras via Air Remote Mobile Tethering App.
Air Remote App features creative zone control, live view, bracketing, time-lapse, focus stacking, bulb time, movie mode and more.
Air Remote Mobile Tethering App is currently compatible with Canon and Nikon:
Looking to get started? Download the Air Direct Utility or Air Remote Mobile Tethering Application for iOS or Android
Homepage: Air Direct Wireless Tethering System