Aclima is a family owned business operated out of Norway that specializes in making comfortable and functional garments, such as base layers, with merino wool in most of its products, for men, women and children. Aclima base layers are highly regarded as some of the best outdoor base layers on the market.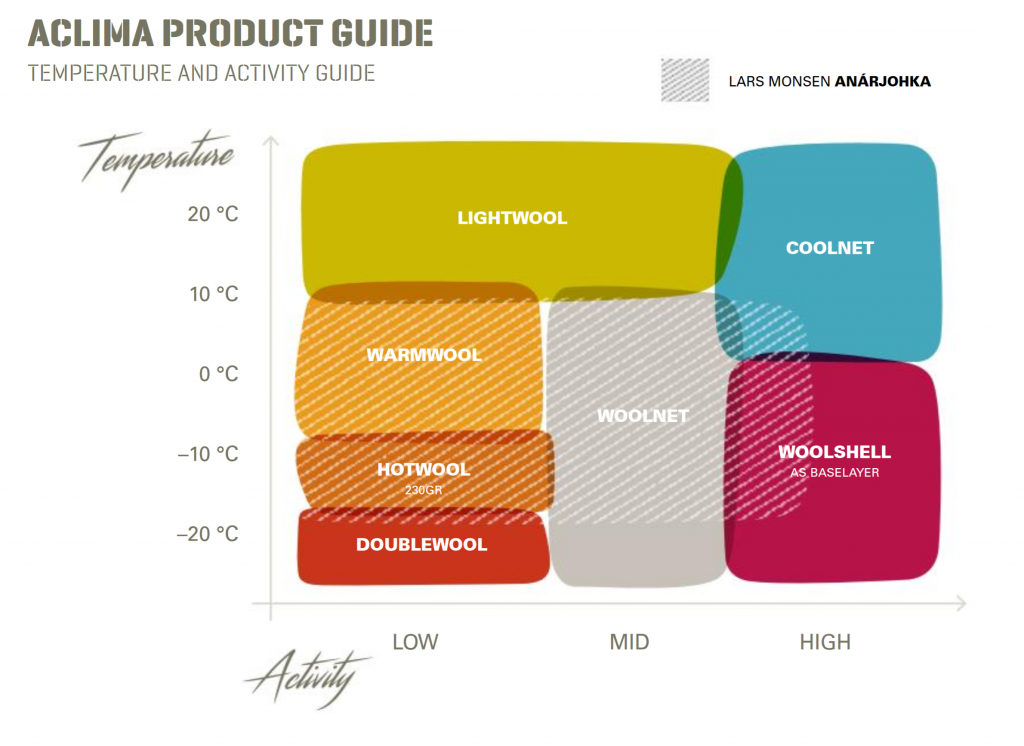 WoolNet
WoolNet is the original when it comes to wool net garments. It is designed for high intensity activities when moisture transport, weight, ventilation and best functionality are the most important. Do you know that air insulates? The net creates small air pockets that provide good insulation without feeling sticky and too warm. Thanks to the material's ability to transport moisture, the temperature is regulated during high and low intensity levels, almost like a thermostat. Because the net material is made of merino wool, we also get all the advantages of wool. Wool warms even when wet and doesn't smell. This collection unites quality, function and design in one. It isn't by chance that the military has used Aclima WoolNet for years. From alpine touring during the winter, long mountain tours, Nordic skating, hunting, fishing and expeditions, WoolNet® is the natural first choice. WoolNet® can be combined with garments from the WarmWool series on cold days. The wool net is extremely fast drying and comfortably stretchy. The garment is rib-knitted on exposed areas for best comfort and durability. Material: WoolNet: 120g/m2, 80% Wool (Merino) 20% Polyamide. Ribbed knitting: 250g/m2, 96% Wool (Merino) 4% Elastane.
WoolNet Crew Neck JetBlack (large)
WoolNet Longs JetBlack (large)
Explorer Beanie JetBlack (Onesize) (Soft classic beanie in 100% merino wool)
WarmWool
WarmWool is a knitted material and thus elastic and flexible. The fabric is made of 100% merino wool, with a weight of 200gsm. The fibres in WarmWool are 20.5 microns, the fabric is soft and comfortable against the skin. WarmWool is suitable as a next-to-skin layer or second layer when it gets really cold.
WarmWool Crew Neck Man JetBlack (large)
WarmWool Longs Man JetBlack (large)
WarmWool /WoolNet JIB Beanie Navy (large)
HotWool
HotWool Polo w/Zip JetBlack (large)
HotWool Crew Neck JetBlack (large)
HotWool Balaclava JetBlack (Onesize)
HotWool Liner Gloves JetBlack (large)
FleeceWools
These products are perfect for crispy cold winter days or just sitting around the bonfire with a cup of hot chocolate. The award winning Aclima FleeceWool are made in Aclima's unique and self-developed fleece fabric in 100% merino wool. It's super soft, lightweight and very comfy to wear. This collection proves that fleece does not necessarily have to be made out of plastic and emit microplastics in the ocean. Wool is a natural, biodegradable and not at least a renewable fibre. The fabric is made of 19,5 micron yarn. After knitting it's cut and brushed, which makes the fabric soft, insulating and very comfortable to wear.
FleeceWool Jacket Navy Blazer (large)