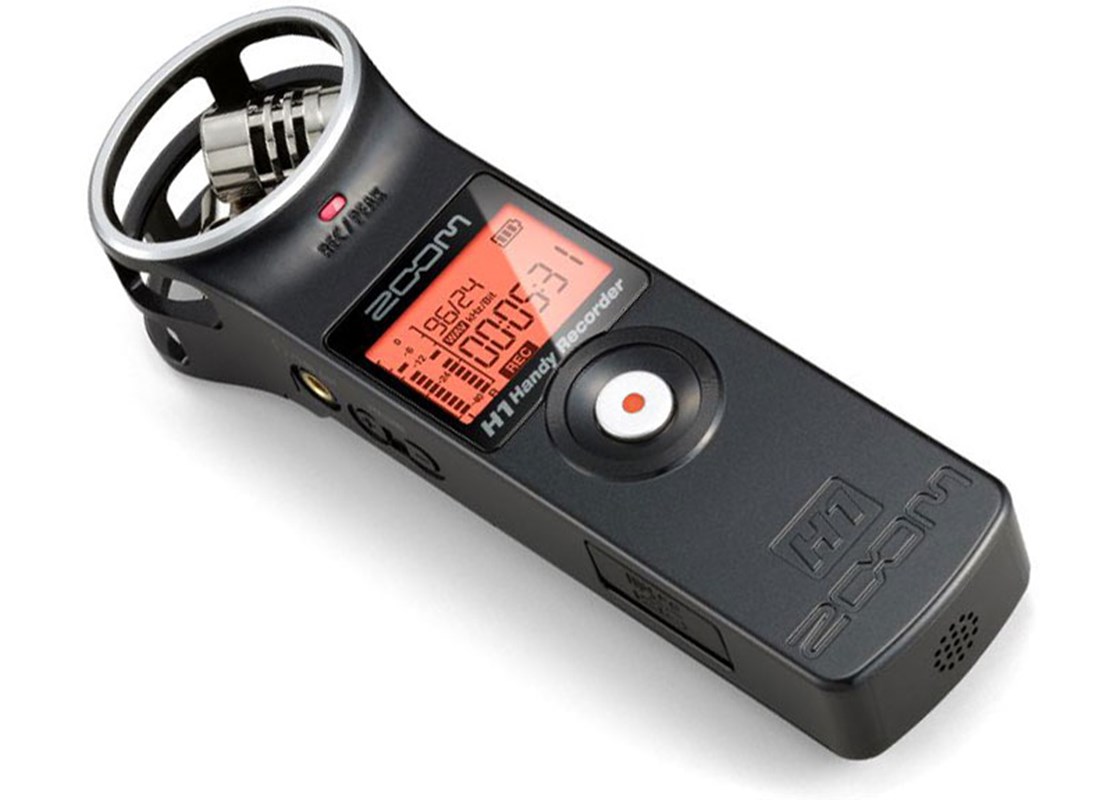 FYI: This item has been sold and replaced with Zoom H1n handy recorder.
The ultra-compact H1 Handy Recorder brings new meaning to the term "portability." Small enough to slip in your pocket, it offers professional-quality stereo recording at an incredibly affordable price. Take it with you wherever you go—live concerts and band rehearsals, location video shoots, lectures and meetings—or use it to capture your musical ideas whenever inspiration strikes.
Using the H1
You can count on your H1 to deliver pristine audio wherever you go. Here are just a few ways it can be used:
Recording live concerts and rehearsals.
Capturing audio for video.
Documenting lectures and meetings—faster and easier than taking notes!
Conducting interviews in the field.
Capturing song ideas.
X/Y recording made simple
The X/Y technique provides a great way to cover a wide area while still capturing sound sources in the center with clarity and definition, making it perfect for all types of live stereo recording. The
H1's built-in X/Y microphone provides two matched unidirectional microphones set at a 90 degree angle relative to one another, optimum for most stereo recording applications. Alternatively, you can connect a pair of external microphones or line level signal to the H1's Mic/Line Input mini phone jack for X/Y or other types of stereo recording.
The Ins and Outs
The H1 Mic/Line Input is a stereo ⅛" mini phone jack that can accept two mic- and/or line-level signals. Condenser microphones requiring Plug-In Power (2.5 volts) can be connected to this jack.
The H1 Line/Headphones Output is a stereo ⅛" phone jack with a dedicated volume control. Headphones can be connected here for private monitoring. There's also a built-in speaker on the back panel for fast monophonic monitoring of the recorded signal without the need to make any connections.
The H1's USB port provides a digital output of the stereo mix and allows data to be sent to and from your computer. From there, it can be imported into editing software such as the supplied WaveLab LE. It also allows the H1 to be used as a 2-in/2-out audio interface and USB microphone, as well as a microSD card reader.
Auto Level and low cut filter
The H1's Auto Level function sets input gain automatically to prevent overload and distortion. Alternatively, input level can be set manually.
The H1 also provides a built-in low cut filter for the elimination of pops, wind noise, blowing, and other kinds of low frequency rumble.
File types supported
The H1 records audio in two different basic file types: WAV and MP3. The main difference between the two is that WAV files are uncompressed; that is, they contain all the recorded signal without any data being removed. The WAV files recorded by the H1 can be either 16- or 24-bit, with sampling rates of 44.1, 48, or 96 kHz, and are automatically time-stamped, making them Broadcast Wave Format (BWF) compliant—especially important when recording audio for video since it allows for precise synchronization in post-production.
MP3 recordings are compressed, which means that some unnecessary data is removed prior to storage, making them much smaller than WAV files, and thus much easier to upload and download. Some MP3 files exhibit a slight loss of audio fidelity as compared with the original signal; however, this is not noticeable in all circumstances.
Battery life and recording times
The H1 requires just a single AA battery—either alkaline or rechargeable NiMH—for power. Battery life when using an alkaline battery is up to 10 hours, even during continuous recording. Alternatively, you can use an optional AD-17 AC adapter, which allows you to power the H1 from any standard wall socket.
The H1 records on microSD cards and comes with a 2GB microSD card and support memory cards up up to 32 gigabytes. Using a 32GB microSDHC card allows over 50 hours of recording time at 16-bit/44.1 kHz. The chart below shows maximum recording time with different file formats and card sizes.
The recorder can record WAV (BWF) files at up to 24-bit/96 kHz or MP3 files up to 320 kbps and VBR. Broadcast Wave Format allows you to add track markers to your recording.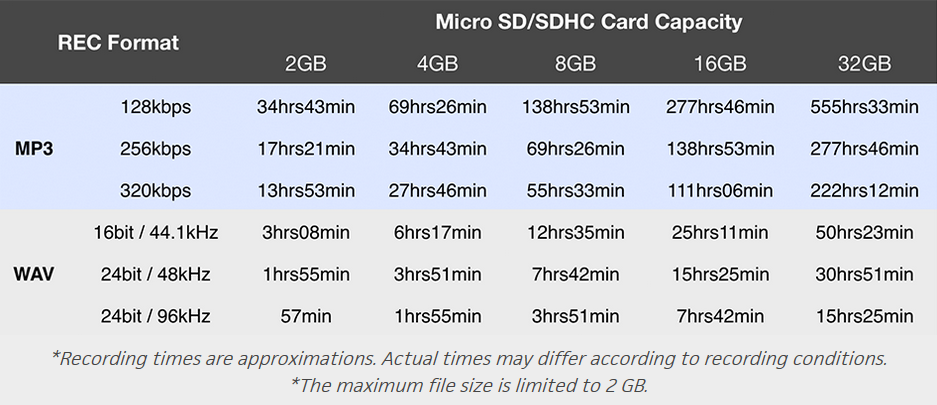 State of the art editing with every recorder
The Zoom H1 comes with free download licenses for Steinberg's Cubase LE music production software and WaveLab LE audio editing software, providing not just the ability to capture superior audio in every box, but to do spectacular things with it.
Take your recordings to a more professional level. Steinberg's powerful and state-of-the-art audio software used by creators around the world now comes with every Zoom Handy Recorder purchase.
For information on license activation and upgrades, visit the Steinberg Software support page.
Optional Accessory Kit
APH-1 accessory package
The APH-1 accessory package offers a windscreen, AC adapter, USB cable, adjustable tripod stand, padded case, and mic clip adapter to maximize the H1's capabilities.
Revo Hot Shoe to 1/4″-20 Male Post Adapter
The Revo Hot Shoe to 1/4″-20 Male Post Adapter has a threaded 1/4″-20 stud on the top and a "cold" male flash shoe on the bottom. This handy little adapter allows you to mount camera accessories that only come with a 1/4″-20 socket to cameras, rigs, camera brackets, and any tripod or light stand that only feature a flash shoe. For added security, the knurled locking ring assures a tight connection to the accessory.
Auray WRW-H1 Custom Windbuster for Zoom H1
The Auray WRW Series Custom Windbusters provide dual layered wind protection and are designed to substantially reduce unwanted broadband wind noise and vocal pops with minimal high frequency loss.
Polsen HPC-A30 Closed-Back Studio Monitor Headphones
The HPC-A30 Closed-Back Studio Monitor Headphones from Polsen are designed for monitoring audio in studio, field, mobile, and DJ applications. They feature 50mm drivers that provide a frequency response of 18Hz to 22kHz for accurate reproduction of your audio.
SanDisk 16GB microSDHC Memory Card Class 4 With SD Adapter
This 16GB microSDHC Memory Card Class 4 With SD Adapter from SanDisk is ideal for use with multimedia mobile phones or any other device that uses microSDHC cards. Expand your entertainment storage with up to 16GB of extra music, videos, photos, games, software, and more. For peace-of-mind the card comes with a 5-year limited warranty from SanDisk.
Kopul ACH4-25MON Line-to-Mic Attenuator Cable
The Kopul ACH4-25MON Line-to-Mic Attenuator Cable is designed to connect your digital recorder (e.g. Zoom H4n, Zoom H6, etc.) output to the mic level input of your DSLR camera with 25dB of attenuation to step down the hot line level audio to microphone level. It features a 1/8″ headphone tap that allows you to monitor the signal to your camera and is shielded to reduce RF noise and provide interference-free operation.
How to upgrade the Firmware
Check the firmware version when the unit is starting up. Version 1.00 is shown as "1/00," for example.
Copy the firmware upgrade file to the microSD card. The latest version of the firmware can be downloaded from the web site (https://www.zoom-na.com/products/field-video-recording/field-recording/zoom-h1-handy-recorder#downloads).
Download: Firmware 2.10
While pressing (start/pause button) slide the power switch to start the unit in version upgrade mode. The version currently used by the unit and the upgrade version are shown on the screen. If the version upgrade is the one desired, press the (record button) to open a confirmation screen. Press (record button) again to start the upgrade.