Synology DS720+ is a compact network-attached storage solution to streamline data and multimedia management. Two built-in M.2 SSD slots and Synology SSD Cache technology allow you to boost system I/O and application performance. Scalable storage design lets you start small and expand storage capacity with Synology DX517 as your data grows.
CPU: 4-core 2.0 GHz, burst up to 2.7 GHz
Cache Acceleration: 2 x built-in M.2 2280 NVMe SSD slots
Performance: Average 15% boost to computing-intensive applications
Scalability: Expand up to 7 drives with a DX517 expansion unit
Optimize performance and capacity
DS720+ provides two built-in M.2 SSD slots so that you can take full advantage of Synology SSD Cache functionality. Add SSD cache for up to 20 times faster I/O response without using front drive bays. You can add five more drives with Synology DX517 to expand storage capacity.
Accelerate demanding applications
A more powerful CPU speeds up computing-intensive applications. The new 4-core processor boosts photo indexing, database response times, and web PHP response efficiency. Easily categorize your photo memories, smoothly manage files across computers and mobile devices, and enjoy blazing fast web applications.
Access and sync your files seamlessly
Synology Drive provides a built-in universal portal to access your data anytime and anywhere, and synchronize all your files across platforms, including Windows, macOS, Linux, Android, and iOS.
Sync files on demand: Save the storage space and network bandwidth of your PC.
Go back in time: Easily retrieve previous versions of your shared files.
Back up your data: Protect your files with scheduled backups or in real-time.
Real-time collaboration on your private cloud
Synology Office is a collaboration package combining the convenience and usability of the public cloud with private cloud privacy and security. It enables seamless collaboration on documents and spreadsheets in a protected environment.
Seamless integration with your mobile devices
Synology mobile applications are designed to allow quick and secure access to your data wherever you are.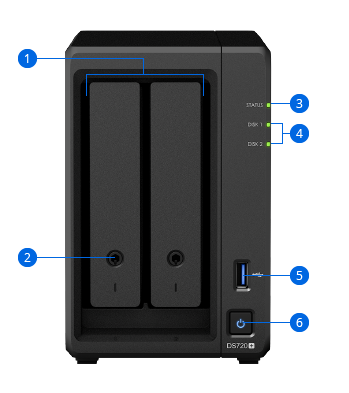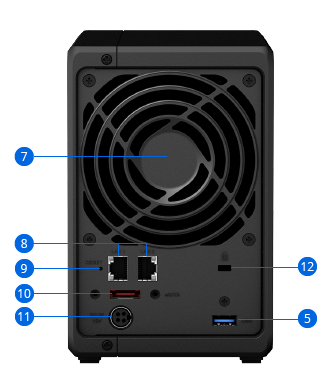 1 Drive tray
2 Drive tray lock
3 Status indicator
4 Drive status indicator
5 USB 3.0 port
6 Power button and indicator
7 System fan
8 1GbE RJ-45 port
9 Reset button
10 eSATA port
11 Power port
12 Kensington Security Slot