An introduction to the Lee Filters system
Lee DSLR Starter Kit
A ready-assembled filter holder comes as standard with this kit, and it also includes a ProGlass 0.6 standard ND filter.
ProGlass filters are designed to cut out more infrared and UV light than the standard versions. The result? A cleaner, crisper result, with fewer colour aberrations when shooting in challenging light. Also included in the kit is a 0.6 ND hard grad, cleaning cloth and triple pouch.
0.6 ND Hard Graduated (2 stops) (Reduces exposure by 2 stops without affecting colour balance.)
0.6 ND (2 stops) (A Proglass filter that reduces exposure by 2 stops without affecting colour balance.)
LEE Filters Graduated Resin Neutral Density Filter Set (3 filters x 2)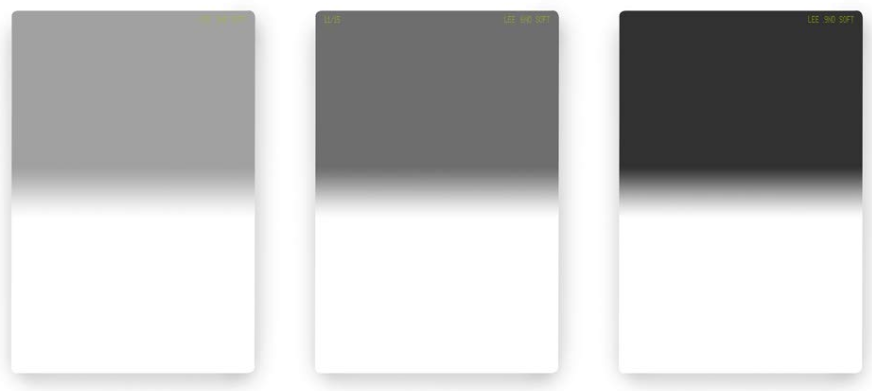 I have both the Graduated ND filters in a set of 3 filters with the soft and hard transitions.
Often it is necessary or desirable to balance the light intensity in one part of a scene with another. This is especially true in situations where you don't have total light control, as in bright contrasty landscapes. Exposing for the foreground will produce a washed-out, over-exposed sky while exposing for the sky will leave the foreground dark and under-exposed.
Lee Grad ND filters are part clear, part neutral density. They allow the transition to be blended into the scene, often imperceptibly. A neutral density .6-to-clear, with a two stop differential, will generally compensate the average bright sky-to-foreground situation and is also the most popular density of the series.
Certain Lee graduated neutral density filters are available with soft or hard transitions from dark to clear. The soft edge is recommended for wide angle lenses and the hard edge is recommended for normal and longer lenses.
Lee graduated resin filters are 100 x 150mm x 2mm thick. The 150mm length allows for adjustment of the filter within the holder.
0.3 ND (1 stop)
0.6 ND (2 stops)
0.9 ND (3 stops)
ProGlass IRND filters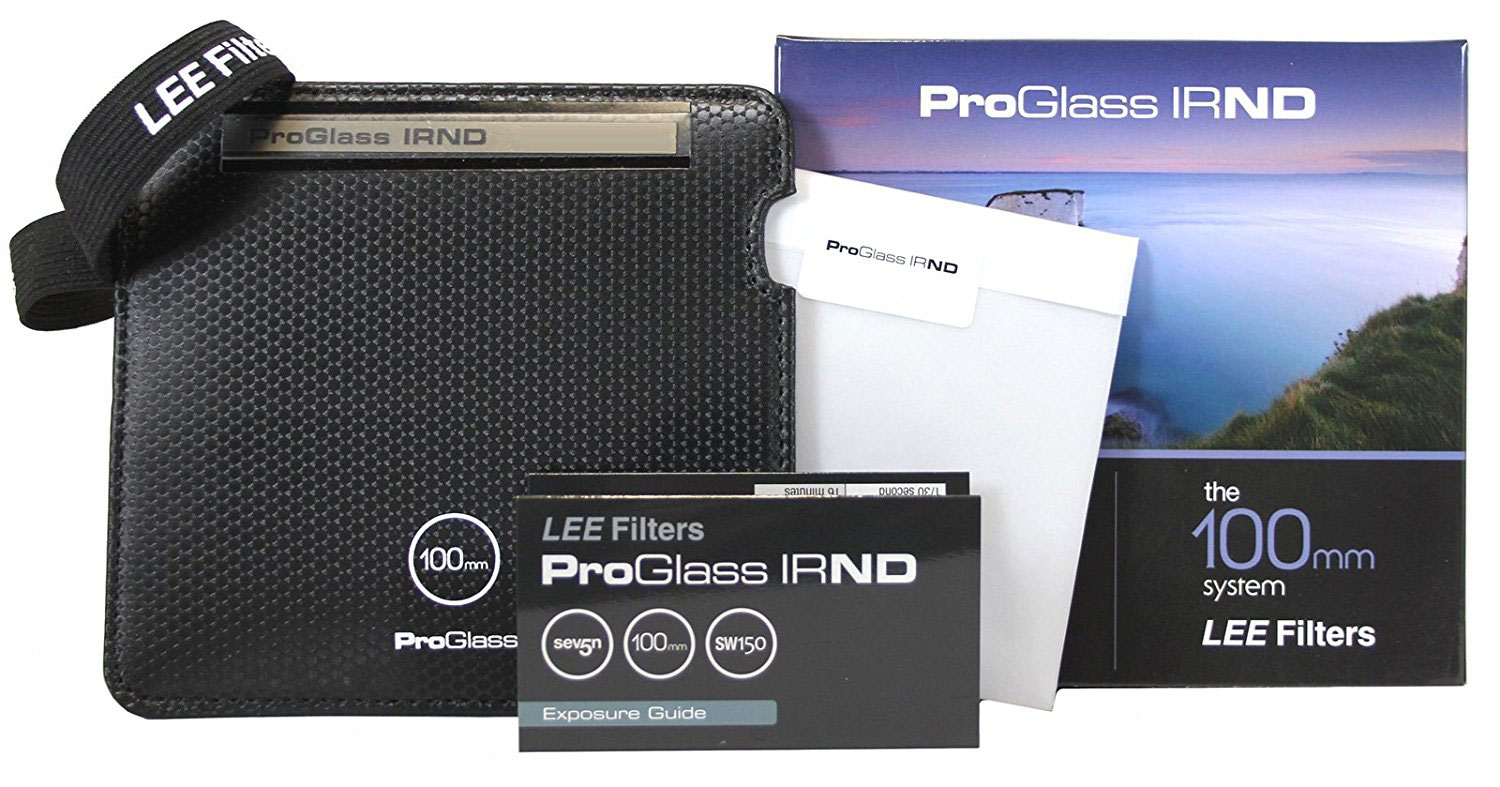 The ProGlass IRND filters are remarkably neutral, with virtually no colour shift and extremely accurate stop values. And because they block both infrared and ultraviolet pollution, blacks remain pure and clean, while colours are crisp, punchy and vibrant.
ProGlass IRND filters are 100 x 100 x 2mm thick glass.
1.2 ND (4 stops)
1.8 ND (6 stops)
3.o ND (10 stops)
The Stopper Range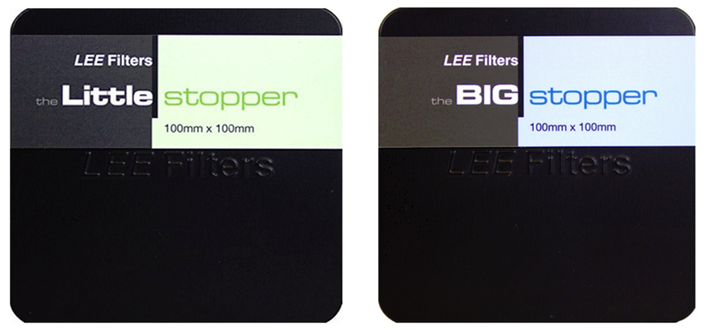 The range of Stopper filters greatly reduce the light entering the lens so enabling very long exposures and many creative options.
The Stopper filters are used for extending exposure times which has the effect of making anything that is moving become blurred or ghost like, for example clouds, waterfalls, rivers or the sea. Used creativity they can change the way we look at moving objects and capture a real sense of time passing in your images. Stoppers are not limited to landscapes and can be used to blur crowds of people, traffic, or anything in motion.
Lee Little Stopper (6 stops)
Lee Big Stopper (10 stops)
White balance
Use of Stopper filters may result in a slight colour cast. This is easily corrected in post-production, usually with a simple click of the auto white balance button. Alternatively using auto white balance in the camera may help, but it is always best to do some tests.
Shooting tips
When making long exposures always use the sturdiest tripod you can, and take care not to knock the camera or tripod. If possible use a cable release or remote shutter release. Cover your viewfinder before releasing the shutter to avoid light encroaching onto the sensor or film and causing flare.
Lee Filters 105mm Landscape Circular Polarizer Filter
A Polariser will remove potentially distracting reflections from non-metallic surfaces such as glass and water and increase colour saturation. Great for skies.
Polarising filters are used to manage light at wavelength scale, and if magnified could be a likened to a series of microscopic slats.
In use, as the filter is rotated, it either transmits or blocks the waves of light that are vibrating in particular orientations. When light from the sun bounces off a flat non metallic surface, such as glass or water, it becomes polarised – i.e. all of the reflected light waves vibrate in the same plane. This reflected glare can be removed by the polarising filter.
Rotation of the filter will be needed to find the optimum position of the Polariser. In photographic terms this can render water or glass transparent, and gives the impression of saturating colours in a scene, because much of the reflected glare from the subject is removed by the Polariser.
On a clear sunny day, much of the light in the sky is also polarised, and the filter will give a very strong blue effect when used at 90 degrees from the sun – any white clouds will stand out impressively.
This Polariser is attached to the filter system by an Accessory Ring (sold separately), which fits to the front of the filter holder. This allows the Polariser to be rotated independently of any other filters in the holder. It is the ideal solution for landscape photography, where a combination of graduated filters and Polariser may be required.
A polariser will reduce your exposure up to 1⅔ stops.
An alternative Polariser filter for the Lee system is the Heliopan 105mm Circular Polarizer SH-PMC Filter.
Every landscape photographer should have an Polariser filter in their bag. It makes the blue sky bluer, eliminates reflections in glass or on water an it makes clouds stand out more.
Lee Filter holder (new version released in 2019)

Comes pre-assembled and ready to go. Takes standard 100mm filters. It clips onto the adaptor ring which, in turn, screws onto your camera's lens. An adaptor ring is not included but is sold separately in a range of sizes.
Adapter ring
The adaptor ring is crucial to the LEE Filters system. It screws onto the camera's lens and, in turn, the filter holder clips onto the adaptor ring.
The wideangle adaptor ring is suitable for use with wideangle lenses. It differs from the standard adaptor ring by sitting closer to the front element of the camera's lens. As a result, the likelihood of vignetting is dramatically reduced
Lee adaptor ring 67mm STD
Lee adaptor ring 72mm STD
Lee adaptor ring 77mm WA (Wideangel)
LEE Filters White Adapter Ring Caps
The Lee White Adapter Ring Caps are a clever idea to keep both your Lee Adapter Ring and lens element protected while either changing filters or taking a break from shooting. These strong caps can be written on and left in place when you store your camera.
Books
Lee Inspiring Profesionals
Discover When, why, and how to use filters in your photography. Eight leading photographers have joined forces with LEE filters to produce "Inspiring Photographers", a new book on 'how to use' camera filters. The 132 page book is full of stunning images taken from around the world that will both inform and inspire you.
Lee Inspiring Profesionals II
Inspiring Professionals 2 is a follow-up book to the original Inspiring Professionals. The Inspiring Professionals 2 is intended as a companion to the first book, including the same blend of quality photography, technical tips and inspiring writing from the UK's leading landscape photographers
Other Accessories
– Tri-Pouch
Holds three filters – allowing photographers to pack their preferred resin set when heading out on location. The pockets are wide enough to carry holders and adaptor rings. The pouch features belt loops on the back.
– Cleaning Cloth
A high quality cleaning cloth which can be used either dry or with the cleaning solution.
– Lee Filter Cleaning Spray 60ml
How to remove the blue color cast from pictures taken with the Lee Big Stopper ND filter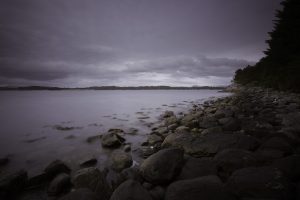 You need to download and install a 3DLUT file (Lookup Table) or Color Lookup Table to correct the color tone in the picture.
The LUT file contains three curves, one each for R, G, B. The curves were created by fitting a 4th degree polynomial to the input/output data, and then creating a 256-point look up table based on each polynomial. You can download the file from here: Lee Big Stopper Color Cast Removal.cube
The correction curves assume:
White balance is manually set to daylight (either in the camera or in the raw conversion).
Color space is Adobe RGB (both in the raw conversion step and as subsequent working space).
Open your image in to Photoshop CC
Apply the color lookup adjustment layer (Layer/New Adjustment Layer/Color Lookup).
To load the 3DLUT file you have already downloaded choose Load 3D LUT… and select the .cube file. The color cast will now be removed from your image.
(You can also move the .cube file to Adobe Presets folder for easy access later : C:\program files\Adobe\Adobe Photoshop CC 2017\Presets\3DLUTs or per-user presets are in: C:\Users\xxx\AppData\Roaming\Adobe\Adobe Photoshop CS 2017\Presets)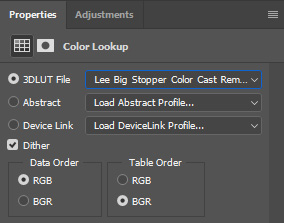 Original source and for more information about this method please visit:
https://jabriffa.wordpress.com/2016/07/07/correcting-the-lee-big-stopper-colour-cast/