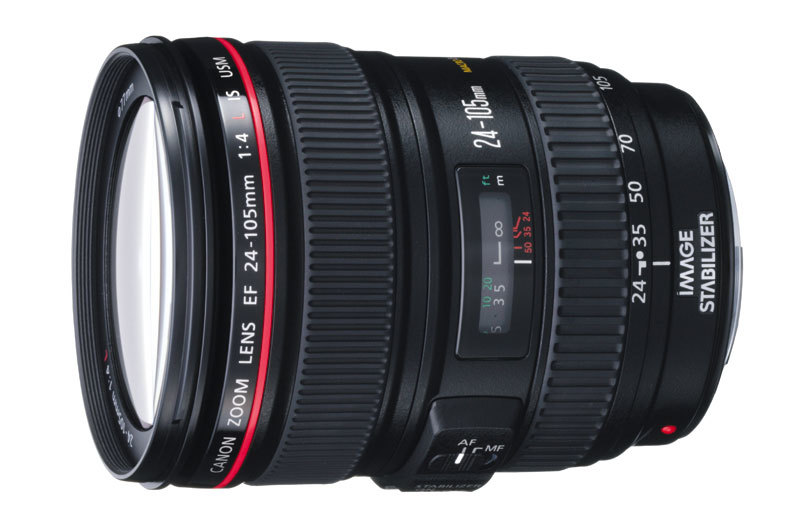 The EF 24-105mm f/4L IS USM is one of Canon's high end L series general purpose standard zoom lenses and the only such lens to feature image stabilization.
For a standard zoom lens 24 mm of focal length give you great wide angle capabilities. You cover a lot more of the scenery with 24 mm than the 28 mm cheaper lenses offer. The lens is good for landscape pictures, groups of people, individual portraits, buildings or just a family get-together. It's one of those general purpose lenses that you can't live without and that you'd definitely take on a holiday. If you'd like to zoom in on something 105 mm are a moderate telephoto length that's good for that as well. But of course that's no way long enough for serious wildlife photography – which is why you will likely want to combine this lens with an additional telephoto zoom lens such as the EF 100-400mm f/4.5-5.6L IS USM.
The lenses maximum aperture of f/4 is not great but at least it's constant throughout the zoom range (and it's a full stop better than most standard zoom lenses at their tele end). In low light conditions you will need high ISO settings to shoot at a party or another indoor event. But on the other hand the EF 24-105mm f/4L IS USM features a good image stabilizer that allows you to shoot with shutter speeds that are 3 times slower than usual. That's why it's still a good lens for indoor events (especially for those that are in the daytime) but of course the IS can't prevent motion blur that comes from your subject's movement (only faster shutter speeds can do that).
You can immediately tell that the EF 24-105mm f/4L IS USM is an L series when you hold it in your hands. Not just because of the red ring near the front end of the lens but also because of its ruggedness and solid build quality. The lens features a metal lens mount that's less prone to wear than those made of plastics and comes sealed against moisture and dust which is especially useful when shooting in (light) rain.
The focus and zoom rings are comfortably sized and well positioned but the focus ring has a tiny bit of play which fortunately doesn't influence the accuracy of the focus – be it manual or automatic. Equipped with a ring-type ultra sound focus motor the EF 24-105mm f/4L IS USM can accurately and quickly find the perfect focus with almost no noise at all. Full time manual override of the autofocus (without the need to switch to MF mode) is available as well.
Image Stabilizer
The lens features an image stabilizer that compensates camera shake to allow shutter speeds up to 3 times longer than usual. That means that you can shoot handheld at 1/13 s rather than 1/100 s for 100 mm of focal length. Of course that's more of a theoretical value because unless you are photographing a still life your subject's movement will create motion blur at such long shutter times. Nonetheless I find the image stabilizer very useful though it cannot detect a panning movement and thus should be switched of for panning shots (e.g. following a flying bird or a racing car). According to the user manual it should also be switched off when using a tripod.
Accessories
Canon ship a standard no-frills pouch with the lens as well as a nice lens hood. While the hood is not made of the modern rough-surface plastics (that prevents scratches a lot better than the shiny plastics used here) it proves very useful in preventing lens flare (the unwanted reflections caused by the sun being in the picture) and haze (the loss of contrast and color saturation caused by the sun shining onto the lens while not necessarily being in the picture).
It's of the petal type and so small that it allows easy access to filters (of the 77 mm type). The use of circular polarizers and graded filters that need to be rotated for each shot is easy with this lens because the front element doesn't rotate while zooming or focusing.